CLASSROOMS FOR STUDENTS WITH MULTIPLE DISABILITIES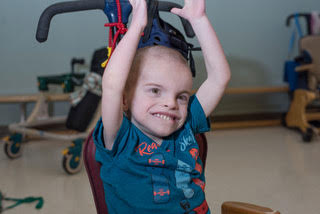 Hawkswood School provides educational services to students ages 3-21 with multiple disabilities through a rigorous curriculum that will prepare them for adult life.
INDIVIDUALIZED CURRICULUM
The academic curriculum in each classroom at Hawkswood School is developmentally appropriate and fully-aligned with New Jersey Student Learning Standards. Students are systematically taught within the classroom using a multisensory approach with a focus on the students meeting their individualized educational goals determined through data collection. We design and implement classroom curricula to maximize the individual student's language, social, emotional, cognitive, and physical potential in all aspects of daily life.
The classrooms provide a small student to staff ratio, allowing small group instruction to be a priority. The curriculum emphasizes academics, effective communication skills, functional and social skills, with a behavioral component which addresses active student engagement, participation and learning.
INTEGRATED
The application of an intensive collaborative teaching model focuses the expertise of related service professionals in the classroom. The collaborative approaches of the speech-language specialist, occupational therapist and/or physical therapist allow students to develop and use their skills during functional activities in the classroom. Students generalize what has been taught and learned within therapy, into a setting with peers.
Like all Hawkswood students, students in these classrooms participate in physical education, music and art programming.
COUNSELING SERVICES
Students also may receive individual counseling from the School Social Worker, as part of their services. All students receive direct instruction in all areas of social skills so they learn to make and keep friends, deal with uncomfortable feelings, and use self-monitoring systems to understand and manage their own behavior.
We focus on helping our students understand that they are valuable contributors to their family, classroom, school and community. Our teachers create a democratic classroom environment, and in so doing, help foster a genuine sense of belonging in each student.
TEACHING APPROPRIATE STUDENT BEHAVIOR
The unique climate in these classrooms is supported by the consistent use of positive behavioral supports within a contemporary ABA model.
Our beliefs about student behavior focus on a child's strengths and natural desire for social connection.
FAMILY CENTERED
At Hawkswood, our families are a valuable and irreplaceable part of the educational and assessment processes. Consequently, you will find that the Hawkswood teaching and therapy team will communicate with you frequently to discuss your child's progress.